20th European Conference IAMI
October 15-17, 2017 Athens
(The Anniversary Conference)
Gold Sponsor
Securmark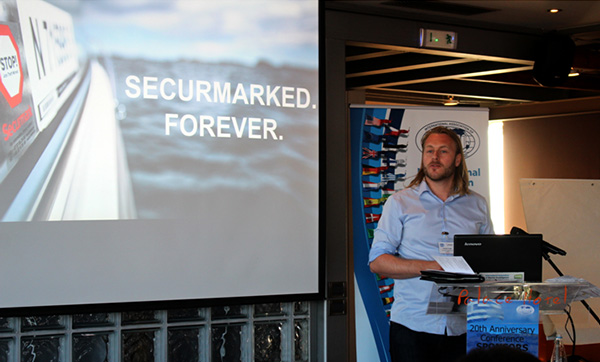 www.securmark.no
Silver Sponsors
SelectaDNA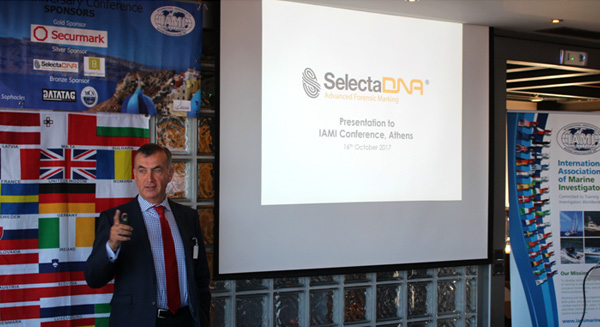 Brightmaven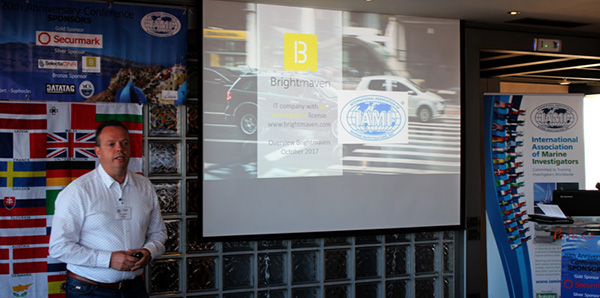 Bronze Sponsors
Datatag
MCS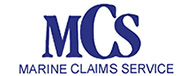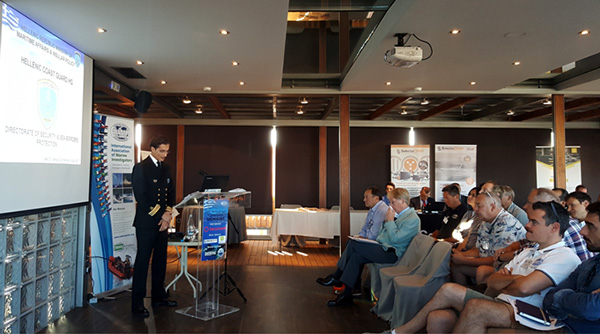 Welcome Speech presented by members of the Hellenic Coastguard.
Navigation Aids as an Investigative Tool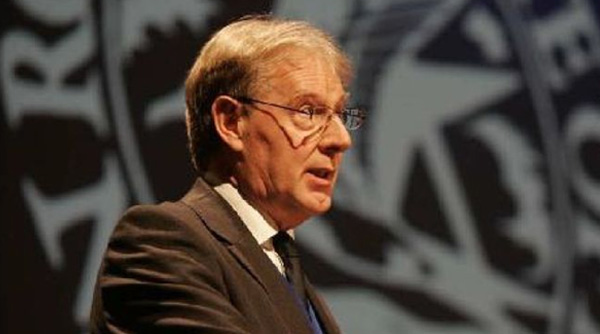 Prof. David Last (Past-President, Royal Institute of Navigation, United Kingdom)
David Last is a Professor Emeritus in the University of Bangor, Wales and Past-President of the Royal Institute of Navigation. He is a Strategic Adviser to the General Lighthouse Authorities of the UK and Ireland. Following a career in research, David works as a Consultant on radio-navigation and communications systems for companies, governmental and international organisations. He is a forensic Expert Witness focussing on GPS-related cases for law enforcement agencies and defence lawyers. David has published some 450 technical and policy papers on navigation systems and forensic matters. He is an instrument-rated pilot and practising navigator.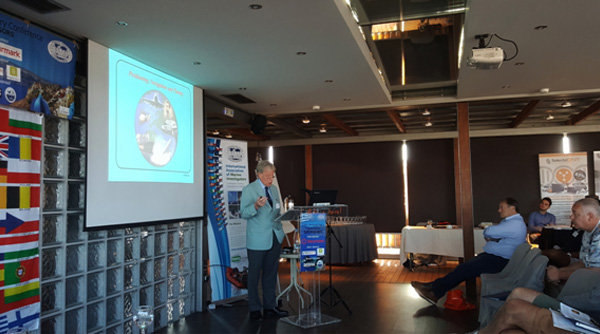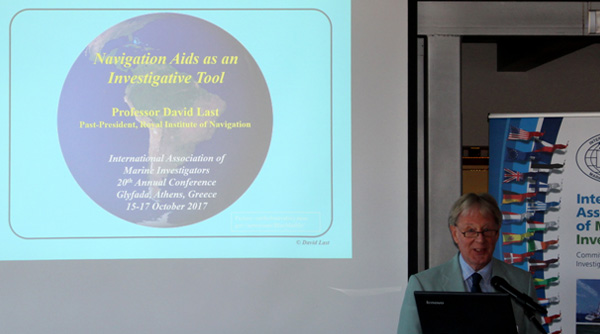 National Insurance Crime Bureau – An Overview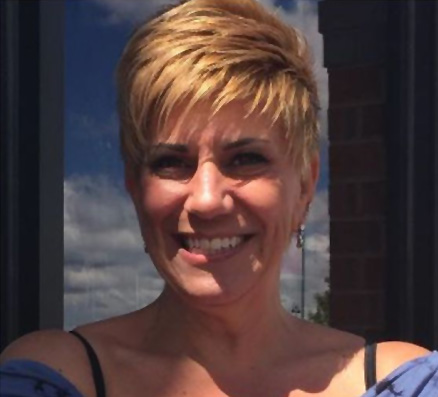 Jennifer Palacz (Manager, National Insurance Crime Bureau – NICB, Des Plaines, Illinois, USA)
Jen is a former police and fire dispatcher from the outskirts of Chicago. Prior to the police department, she was the first female tow truck driver in Chicago, repossessing and hauling insurance totaled vehicles. She has been with the National Insurance Crime Bureau (NICB) in Des Plaines, Illinois, in the United States, for the last 11 years. Starting as an Investigative Assistant, Jen worked with law enforcement from across the U.S., assisting on cases involving the identification of automobiles to heavy equipment. Her dedication and drive advanced her role into Supervisor of the Investigative Assistance Group. Currently she is the Manager of the Manufacturers Information Group at NICB. Jen works with auto and boat manufacturers to secure shipping and assembly data that is crucial to investigations. Her department houses and maintains confidential identification information.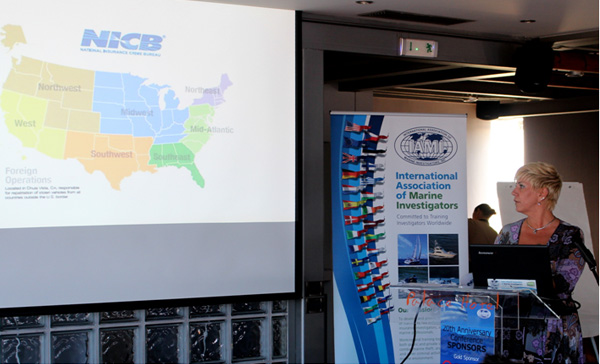 V.I.N. 101 Practical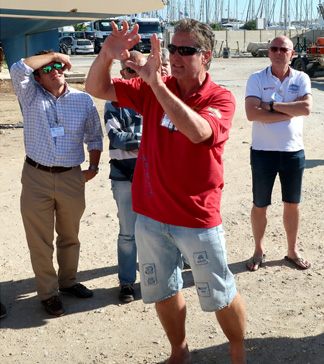 Kai Jäger and Matthias Mink (Investigators, Maritime Police, Konstanz, Germany)
Matthias Mink, Police Superintendent, working as a police officer since 1979, head of the Competence Center for Boat related crime in Germany since 2005, which is located in Southern Germany at the border to Switzerland. Our unit (five police officers) is in charge for all kind of requests regarding boat related crime in our country. Nearly every vessel which is checked in Germany runs through our database, which Wolfgang Benner has created since 2001. Moreover we get most of the incoming requests from Interpol Wiesbaden to check and to select. We try to optimize the search reports for stolen boats and outboard engines, are constantly improving the data quality in our systems and are networking very close with all our neighbor countries. Furthermore we assist our police officers in identification of stolen items and are conducting training seminars all over Germany and in the EU. One of our main operational goals is to seize the stolen goods on the transport ways through Germany.
Since our founding in 2001 we could seize stolen boats, outboard engines and trailers with the local police stations in Germany and nearly all other European countries in a total value of more than 30 million Euros.
 Engine Number Recovery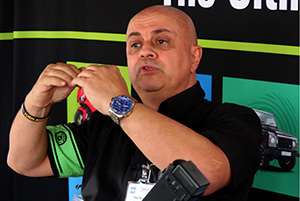 Nick Mayell (Datatag ID Ltd, Surrey, United Kingdom)
Nick Mayell has been tracing and identifying heavy equipment for over 30 years. He runs accredited courses for the Institute of the Motor Industry (IMI) in vehicle identification and forensic VIN recovery. He regularly carries out training all over the world for Interpol's Formatrain project.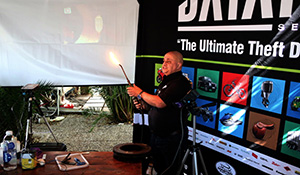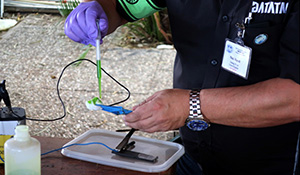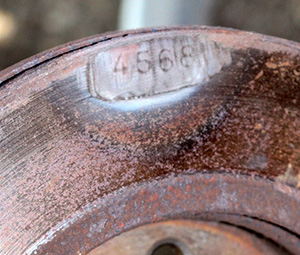 Maritime Marking Systems Practical

Nick Roach (SelectaDNA, Selectamark Security Systems plc, Kent, United Kingdom)
Current Issues Related to Transportation of Illegal Immigrants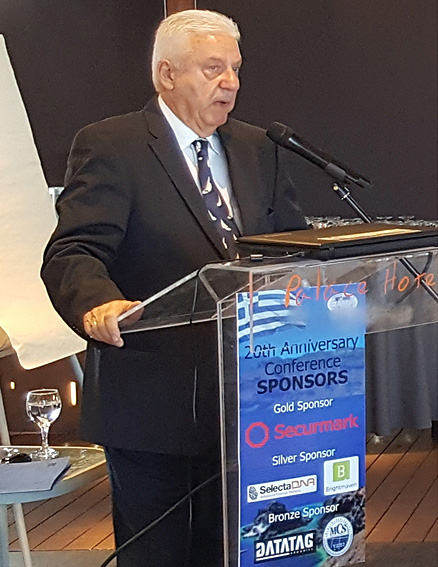 Vasileios Patkos (Lawyer, Patkolaw, Piraeus, Greece)
Vasileios Bill Patkos,has been serving the maritime law industry almost 50 years, practicing maritime law in New York, in London and in Greece.
Bill, after his graduate law studies with the Law a School in Thessaloniki, followed graduate studies with New York University in New York and obtained from this prestigious Law School Master Degrees in International and Maritime law as well as in Comparative jurisprudence.
Mr Patkos worked as a Lawyer and foreign consultant in New York for five years with a major Wall Street law firm,Haight,Gardner,Poor and Havens,a specialized maritime law firm .In 1976 returned to Greece and in 1978 established his present firm as Law Offices of Basil T Patkos,practicing all areas of maritime law with an emphasis in ship finance.In 1986 expanded his office in London setting up a branch office there.
The Law Office of Basil T Patkos represented several lending institution and banks as well as ship-owners involved in many finance cases,purchase of any type of ships or shipping litigation .Bill has been involved in the MT Prestige off the coasts of Spain.
The last several years Mr Patkos law firm has a strong practice in insurance matters, representing major insurance companies and protecting them especially with sailing and motoryachts crossing and navigating the Aegean Sea and Med as well.
Maritime Salvage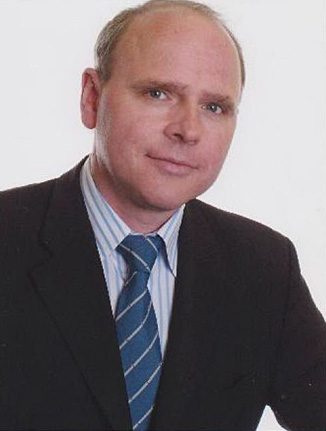 Jürgen Triest (Master Mariner, Head of Claims Department GSM for Mannheimer Versicherung, Hamburg, Germany)
Jürgen Triest (55), living in Lutherstadt Wittenberg
Master Mariner (Dipl.-Ing. Maritime Academy Warnemünde/Wustrow)
Vocational training / practical time as AB man and study at the Maritime Academy, sailing as officer on duty in all regions and on several types of vessels from 1979 – 1993 1993 – 2004 several jobs shore based
2004 – 2013 working as Claims/Senior Claims Manager for the Association of Hanseatic Marine Underwriters – (VHT Hamburg office)
2014 – Head of Claims Department GSM for Mannheimer Insurance Company
Experience:
Handling of Hull Claims, Collision cases and Main Engine Damage
Handling and co-ordination of Salvage operation incl. cost control
Handling of final salvage award negotiation
Handling of wreck removal operation
Special knowledge in Lloyds open Form Contract, General Average, etc.
Handling of Towing and Emergency towing operation incl. towing approval
Organization and active monitoring of emergency towing operation
HPI/ EU Conformity and Recent Changes in the Craft Directive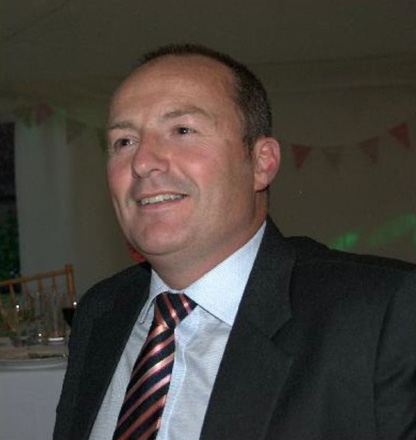 Alasdair Reay (CEO, HPi Verification Services, Ltd, Wallingford, United Kingdom)
With over 20 years in the marine transport and industrial sectors, Alasdair is an experienced engineer, naval architect, auditor, and surveyor. He is CEO of HPi Verification Services (HPiVS), a leading supplier of worldwide CE certification services for customers in various industries including marine, offshore, and oil and gas.
Prior to joining HPiVS, Alasdair was CEO of the CEproof Group of companies, which he successfully developed into the world's largest consultancy in the field of EU-compliance for small marine craft. Alasdair has also worked as Business Development Manager for the consultancy arm of the American Bureau of Shipping, and Certification Manager for the Consultancy arm of the UK Atomic Energy Authority.
He began his career with Lloyds Register, where he joined the LR Graduate Recruitment Scheme as a trainee surveyor.
Alasdair holds a Bachelor of Engineering (BEng) degree in Naval Architecture & Ocean Engineering from University College, London, UK. In addition, he is also a qualified Lead Auditor (ISO9000), Maritime Auditor (ISM), and Chartered Engineer.
Alasdair is also a member of several prestigious institutions, including the Royal Institution of Naval Architects and the British Standards Institute's small craft committee (GME/033). He is currently Chairman of the 'Design & Construction' sub-committee of The EU's Recreational Craft Sectoral Group (RSG), responsible for the uniform application and interpretation of the Recreational Craft Directive (RCD) by all Notified Bodies and other parties with valid interest.
Structured Statement Taking – Witness & Victim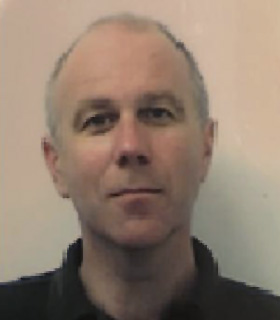 Richard Foreman (Profile Aware Ltd, Essex, United Kingdom)
Richard Foreman retired as a Police officer with 30 years' service. Richard has been a career detective and has served on a variety of major investigative teams and a secondment to the UK's National Criminal Intelligence Service. Richard has specialist knowledge within behavioural detection, he is one of the UKs' leading exponents in its use and operational deployment. He is recognized both nationally and internationally as an expert within this field.
Richard and his company, Profile Aware Limited, have for the last 9 years been employed by the UK Government to deliver behavioural detection and credibility assessment interviewing training which focuses on interviewing and elicitation skills. This training is delivered to Law Enforcement, Military and Private Sector organisations both in the UK and overseas.
Mobile Phone Analysis as an Investigation Tool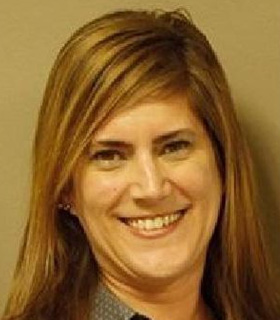 Anna Kotsovos (Senior Analyst, National Insurance Crime Bureau, Des Plaines, Illinois, USA)
Anna Kotsovos is a Senior Tactical Analyst with the National Insurance Crime Bureau (NICB) in Des Plaines, Illinois, in the United States. Anna provides analytical support for NICB case investigations, creating products for local and federal law enforcement agencies and prosecutors. She is the lead instructor for the NICB Basic Analyst Academy which provides training to insurance and law enforcement analysts. She has provided cellular telephone record mapping analysis for various types of cases and has provided multiple trainings to law enforcement and insurance professionals.
Anna holds an associate's degree in computer networking, a bachelor's degree in psychology, a master's degree in clinical psychology, and a graduate certificate in intelligence analysis.
Anna was a college adjunct instructor for seven years teaching psychology and criminal justice courses, and maintains licensure as an EMT, currently volunteering with the Medical Reserve Corps.
Anna is a Past-President of the North Central Regional Chapter of the International Association of Auto Theft Investigators (IAATI), and was sworn in as an Associate Director for the international chapter in 2016.
Anna was awarded the 2011 Analyst of the Year award by the International Association of Special Investigation Units (IASIU).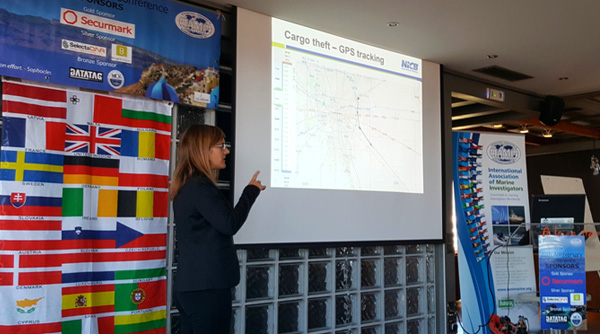 Electric Propulsion on the Water
Dr. Christian Pho Duc (SVP Sales, Torqueedo Ltd., Gilching, Germany)
Christian has been responsible for sales at Torqeedo GmbH since 2014. His many years of international experience in sales, marketing and management, his marked technical background and, last but not least, his multicultural roots make him ideally suited for this task.
Before joining Torqeedo, Christian spent five years in the renewable energy sector – as Managing Director of Smartenergy Renewables Deutschland GmbH and as COO of Smartenergy Renewables AG. He was responsible for sales in Europe, the Middle East, North Africa and India at Nanosolar and European sales at Solyndra. Prior to that, Christian had worked for 15 years in the semiconductor industry, always at the leading edge of technical innovations. He marketed high-end products for Qimonda, Infineon Technologies, Giesecke & Devrient and Siemens on the international stage, holding a number of management positions.
Christian holds a degree in physics from the Ludwig Maximilian University of Munich, a master's degree in semiconductor physics and microelectronics from Cambridge University, UK, and showed an early interest in the market potential of technologies. He undertook research at the Max Planck Institute for Astrophysics into high-resolution detectors that today orbit the earth in satellites. At Siemens Semiconductors in the 1990s he and his colleagues launched what were then the most highly integrated memory chips.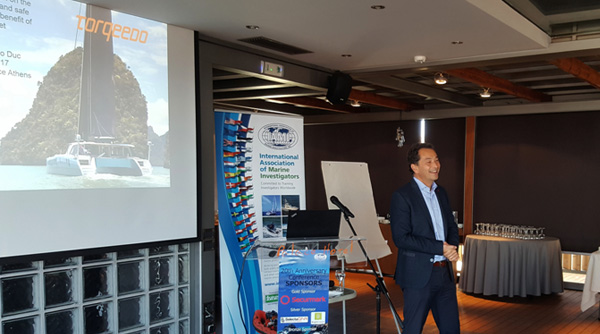 Lithium Batteries – A Special Fire Risk on Board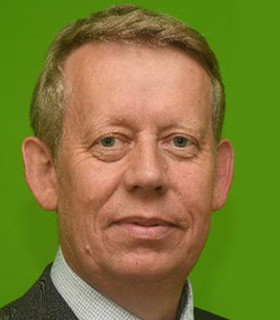 Dr. Stefan Tewinkel (Site Manager, IFS, Institut für Schadenverhütung und Schadenforschung der öffentlichen Versicherer e.V, Munich Office)
Stefan Tewinkel, IFS Munich, is a fire investigator and expert on hazards linked to fire and moisture. He studied chemistry at the University of Würzburg and finished his PhD-thesis in inorganic chemistry in 1995. After working for a number of years as a consultant, he started working at the "Institut für Schadenverhütung und Schadenforschung der öffentlichen Versicherer e.V." (Institute for Damage Prevention and Damage Research) in 2001. Stefan is leading the Munich office of the institute, which has its headquarters in Kiel, Germany.
Besides conducting fire investigations and other surveys the institute also helps to increase public awareness on risk prevention through publications and films. Fire investigations are mostly carried out in buildings but also in vehicles and vessels.
ANNUAL GENERAL MEETING SUMMARY
16.10.2017 11:25
Call to Order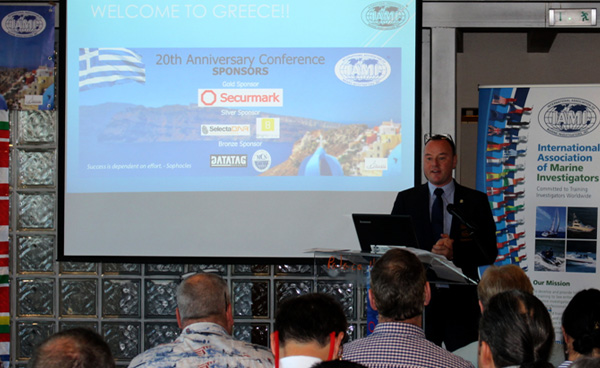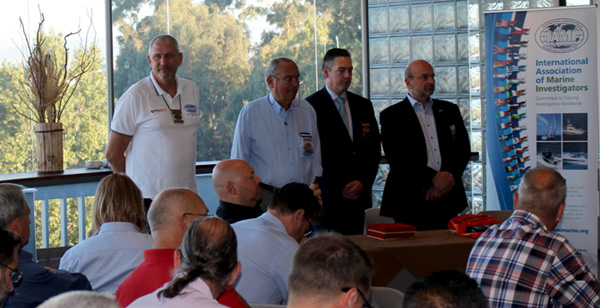 Approval of the Minutes of the preceding AGM
Minutes of the preceding AGM was opened to vote. Here, as in all the next votes of this AGM, the members voted by raising their arms. The membership voted unanimously affirmative and thus approved preceding AGM.
Economy – Members status/Fee/Financial Report

IAMI-Europe has established the bank account
c/o HSBC Bank, London (UK)
in July 2012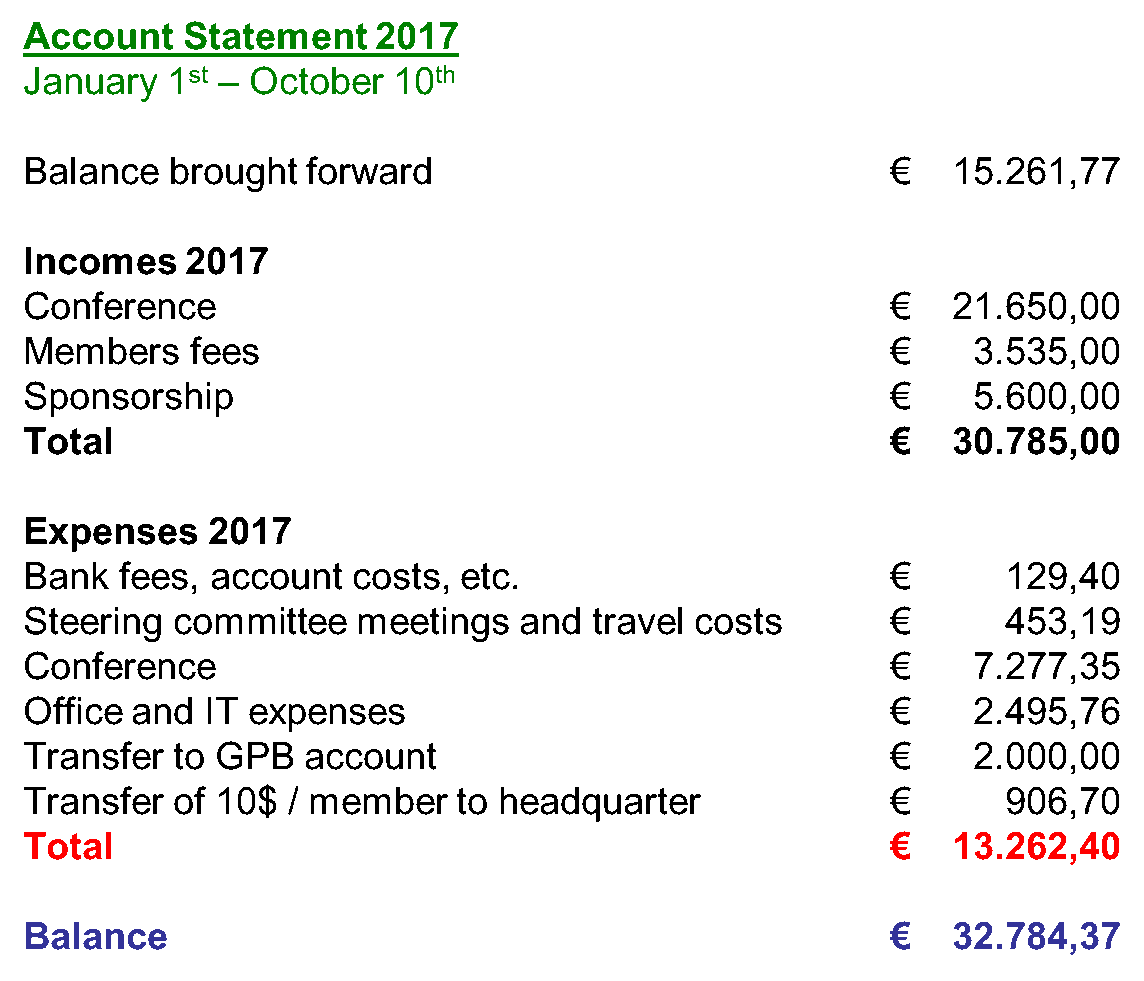 (Note 2016: € 26,845,43)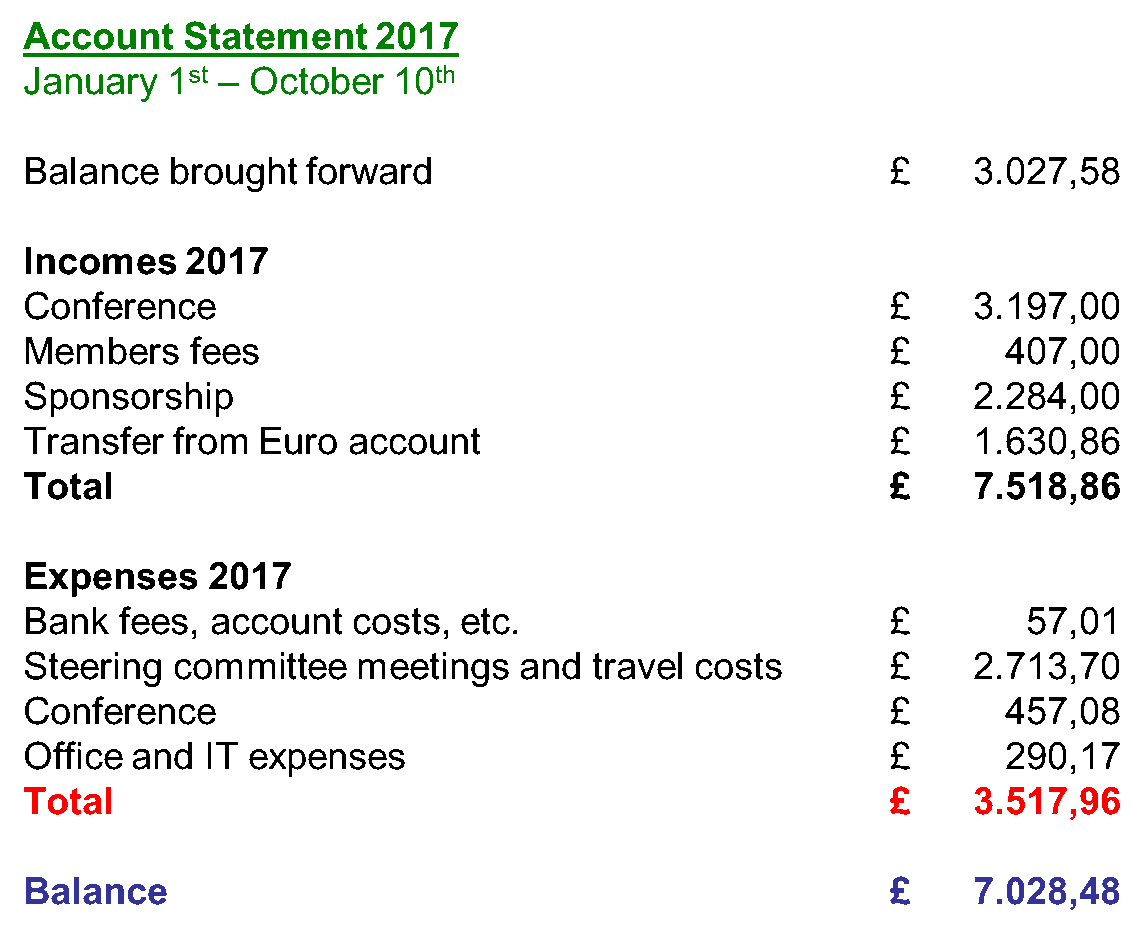 Approval of Audit. Election of Auditor
Mrs. E. K. Burbridge was proposed as auditor for 2017/ 2018. Proposal was opened to vote. The members voted by raising their arms. The membership voted unanimously affirmative and thus approved election of the auditor for 2017/ 2018.
Suggestions from Members
(From the Invitation Mail to the AGM: Any points of discussion or suggestions that require a vote, should be forwarded to the SC one month prior to the AGM, so that it/they may be dispersed to the membership for their attention.)A proposal from Members Tim Jørgensen, Peer Jørgensen and Peter J. Smith had been received in final form on 10.10.2017. During the AGM Tim Jørgensen and Peter J. Smith verbally presented their enquiry.The Steering Committee replied with a presentation (click to follow link) at the end suggesting that, if required, an ad hoc committee should be formed, and this committee adjourn to separate chambers for discussion and may announce its findings and recommendations before the end of the conference.The Steering Committee proposed that this committee would be formed by the following members:
Past President W. Skrdla
Past President B. Ripley
Past President M. Åberg
Founding member P. Clark
And that in attendance would be
For the SC; T. Hansen.
For the members behind the request. NN or T. Jorgensen
Two of the proposed committee members, Past Presidents W. Skrdla and B. Ripley refrained from participation in that committee on grounds that this was a matter for IAMI Europe.
Eventually a committee was formed by following members:
Past President and Lifetime Member M. Åberg
Lifetime Member P. Clark
Lifetime Member P. Siegfried
Member and Gold Sponsor J. TweideIn addition, member O. Rebulla suggested that for the future a standing "Members' Enquiry" Committee should be formed and should adjudicate upon any enquiry. This was opened to vote. The membership voted unanimously affirmative to member Rebulla's proposal and the Steering Committee was mandated to form such Enquiry Committee.(The ad hoc committee, formed during the AGM convened after the AGM, T. Hansen attended on behalf of the Steering Committee and Peter J. Smith attended. It was decided the same day that the subject should be closed and a line drawn under the matter.)
(Here you can proceed to the findings and protocol of the ad hoc committee.)
Voting for adoption of New Bylaws/Separate Chapter, accept to begin Franchising Negotiations
The bylaws had been circulated to the membership. The bylaws were opened to vote. The membership voted unanimously affirmative to the adoption of the New Bylaws/ Separate Chapter, accept to begin Franchising Negotiations and thus passed on the mandate to the Steering Committee.
Election of Officers: Simon Lofting standing down. Tommy Hansen standing down
(From the Invitation Mail to the AGM: Any Members wishing to candidate for positions on the SC, should announce their intent to the SC one month prior to the AGM, so that the SC may inform the membership of the Candidates.)
After vote, SC will constitute itself and Chair/Vice-chairperson will be confirmed by the AGM
The Steering Committee proposed vice chairman Y. Civelekoglu a Chairperson and Steering Committee member M. Böhmen as Vice-Chairperson. The two freed positions were filled by Member V. Lujo and Member and Sponsor R. Vermeulen. This was opened to vote. The membership voted unanimously affirmative and thus approved this reconstitution of the Steering Committee.
Presentation of new IAMI Europe Admin (Ms. G. Stárková) and goodbye to Ms. C. Haid
This was carried out.
Next Conference
(From the Invitation Mail to the AGM: Please consider venue sites for a possible conference, and at the same time any Points Of Contacts at the suggested venue site, who may lend assistance in setting up a possible conference.) presentation of member V. Lujo
End
Credit: Images Courtesy of Members Brian Ripley, Peter Schirmer, Yusuf Civelekoglu, Naci Arici and Guest Aykut Mutlu