Dear Member,
There are a good number of developments I would like to communicate to you.
Closing with IAMI, Inc.
Let me start by summarizing what happened after the last AGM (Annual General Meeting) in Sibenik.
Based on the mandate received the European Board put IAMI, Inc. on notice that the membership urges IAMI to issue the agreed Chapter License.
IAMI responded in November 2018 that IAMI Europe "must immediately cease and desist using the altered IAMI logo." – quite a different direction from what had been agreed upon earlier in March. We obliged and started to prepare for a rebranding.
A phone conference between IAMI's board and the European Board was set for November 13th, 2018. IAMI Inc. requested Europe to address few issues. We replied in full within two days. IAMI, Inc. responded with some excuses and that was the last we heard from them.
We do not regret that, as the president's language during the phone call was patronizing and very disrespectful – including such expressions as "go to hell" and "shut up". The rest of IAMI Inc.'s attendees appeared to give tacit approval of all that. Furthermore the president made it very clear that IAMI Europe, would "not be given the right to demand things from IAMI, Inc." and to "do whatever you want" without "some guidance from IAMI, Inc". This patronizing is not what the European Members wish and deserve.
(For the minutes at the AGM in Sibenik: http://www.gmi-eu.org/minutes-of-the-annual-general-meeting/ .  For background info, why a chapter had to turn into a re-branding: http://www.gmi-eu.org/faq/ and http://www.gmi-eu.org/timeline/.  Contact admin@gmi-eu.org for a password.)
Rebranding
We have cooperatively developed the name. Not less than 87 name suggestions were put forward by members, in response to our request and discussions were carried out. Eventually the Board's shortlist was circulated in form of a survey and the membership voted for
Global Marine Investigators – GMI.
In parallel we had a logo developed by our Ms. Emine İlkorur, who has been quietly supporting this association for years in design issues. As circulated on Nov. 24, 2018 it is a stylized globe, focusing on our seat, Geldermalsen in the Netherlands. Stylised longitudes and latitudes frame a Euro-Mediterranean background. The faint reticle on the outer circle is an homage to the investigators.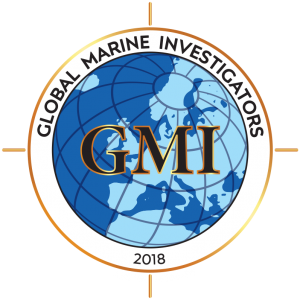 We have now progressed significantly in rebranding our association and we are waiting for the formal approval by the European branding regulation body. Our brand attorney has confirmed though, that he does not expect complications with this name-logo. So keep your fingers crossed!
My extended thanks go to all of those who contributed to this new name and logo.
Due to the new Data Protection Regulation (GDPRS) and in order to formalize your membership we will ask you to complete and sign the attached sheet and formally apply for membership. In return the board will issue a confirmation of membership and an invoice, covering the term May 2019 – December 2019. The Board has decided to shift the fiscal year to January – December.
2019 Conference
Honouring the request of some members and considering that time has come to convene again "up in the North" the Board has decided for a Conference in the North of Germany. Vice-Chairman Matthias Böhmen has managed to get going a number of local contacts in Travemünde at the Baltic Sea.
Travemünde is closeby to the UNESCO World Heritage Site Lübeck, yet another of the Hanse City States of the Baltic, within reach of Hamburg International Airport and easily accessible from the Scandinavian side. There is a vocational school teaching traditional boatbuilding and a well-established maritime academy. To both we have developed friendly connections. Travemünde is home of the four mast bark Passat – in itself yet another of the many maritime heritage sites of the area.
This year's conference is scheduled from October 20th (Sunday, registration day) to Wednesday 23rd (Departure).
We will honour the requests of the participants of last year's survey and will try and arrange more in depth-presentations and discussion rounds.
The preliminary agenda and the application form will follow soon and we will ask you to let us know your intentions at earliest.
In Depth Training
Again, honouring the members' feedback after Sibenik, we have decided to offer this year for the first time a one day "hands on" – "in depth" training. This training will take place on Sunday, October 20th and will be carried out by a "tested" professional:
We offer: Marcus Lindemann, managing director of Autorenwerk in Berlin will carry through a one days' training in
Open Source Research for Marine Investigators.
The training would be scheduled for the Sunday, October 20th, thus it would require arrival on Saturday and would end in time for the welcome networking.
Trainees would have to supply their own laptop with Wi-Fi access.
Autorenwerk is a leading information authority in information processing and consultant for many high end information processing institutions, including German insurance houses.
No need to say, on one side the training seats are limited, on the other side we can start such project only with some minimum number of participants. Therefore please give us a hint ASAP if you plan to take part in this training!
Furthermore, we are aiming at very interesting conditions for about € 200/ participant.
Thank you for your ongoing support.
Dr. Yusuf Civelekoğlu, CMI, Chairperson – Global Marine Investigators