The organisers of boot Düsseldorf have reaffirmed that the boat show will take place from 22 to 30 January 2022. In a release circulated yesterday (8 December), Messe Düsseldorf states it has decided to hold boot 2022 as planned after consultations with the exhibiting branches and consistent implementation of the current Covid Protection Ordinance of the State of North Rhine-Westphalia.
Protocols for entry to the show have been updated recently meaning only visitors who comply with the vaccinated or recovered regulation may enter the fairgrounds during boot. In addition, wearing a particle filtering half or medical mask is compulsory in all halls.
Messe Düsseldorf CEO Wolfram Diener says: "Messe Düsseldorf has a responsibility towards both the exhibitors and the large watersports community to hold boot 2022. Since we already updated our access regulations a fortnight ago with regard to the vaccinated or recovered regulations, we are fully on track with boot 2022 even under the new regulations in the current Covid Protection Ordinance."
While some names have already pulled out of the show in light of rising covid cases, the industry appears keen to see the show come to fruition. Diener says "the approval from the watersports industry for boot 2022 is good. We will be able to put on another boot in 2022 to kick off the new season."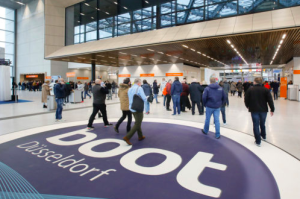 The non-participation of some luxury, sailing yacht and motor boat manufacturers is regrettable and objectively incomprehensible for Messe Düsseldorf, adds boot project director Petros Michelidakis. However, with global market leaders such as Princess and Sunseeker, Bavaria Yachtbau as Germany's largest sports boat manufacturer for sail and motor boats and Hallberg Rassy in the sailing boat segment, there is "a lot on offer" and a great boat show with a wide range of products for the visitors.
Marc Rutgers, managing director of the major European watersports wholesaler ALLPA says: "We at ALLPA are looking forward to boot 2022. We will meet our European customers there. I trust that Messe Düsseldorf, taking into account the current protection regulation in Germany and with the vaccinated or recovered regulation for visitors, will offer our industries a good and safe place to do business."
Martin Guscott, exhibition manager Sunseeker International says: "We are really excited to be back at one of, if not the largest indoor boat show in the world – boot Dusseldorf. We have an incredible line-up, including the global premiere of the Sunseeker Predator 65 which will take centre stage among the fantastic display of yachts. This has been an accumulation of months of planning and organising, from boat deliveries up the River Rhine, all the way down to the finer details to ensure a safe and enjoyable experience for all that visit – we are ready and excited to welcome guests to our stand and hopefully, to join the Sunseeker Family."
Michelidakis adds: "We are very happy about the good support of our friends from the boating industry. Our partner associations, the German Marine Federation and, at international level, the European Boating Industry, are also working with great commitment and enthusiasm to plan a successful boot 2022".
The organiser also notes that the latest air exchange regulators also ensure a regular supply of fresh air in the exhibition halls. More existing exhibitors vocalising support for the event include Bavaria Yachts and Sea Ray International.
Marc Diening, CEO Bavaria Yachtbau says: "For Bavaria Yachts, boot in Düsseldorf is the most important international water sports fair. As a long-standing partner, we will be represented with five motor boats in Hall 1 and five sailing yachts in Hall 16. We are looking forward to boot 2022 and your visitors."
Hans Roelants, general manager Sea Ray International says: "Although the current Covid-19 situation continues to change on a daily basis, we strongly believe in the power of boot Düsseldorf and physical boat shows in general. We are confident in the safety regulations that boot Dusseldorf is putting in place and will have very strict protocols for all our employees as well throughout the duration of the show. As of now, we are planning to exhibit at boot Dusseldorf 2022 and will continue to make preparations to ensure the health and safety of our employees, customers, and attendees. Should the situation worsen, and make it impossible to exhibit, or put jeopardize the health and safety of our employees, we will adjust accordingly."
https://gmi-eu.org/wp-content/uploads/2021/11/DSC_3212-scaled.jpg
1702
2560
Federico Borrea
https://gmi-eu.org/wp-content/uploads/2020/03/gmi_fin-2-300x300.png
Federico Borrea
2021-12-09 15:50:28
2021-12-09 15:50:28
boot Düsseldorf latest: organiser says show will go ahead (with kind permission of Marine Industry News)