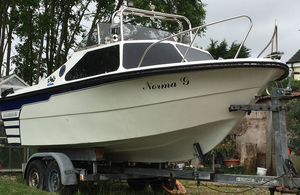 A teenager who drowned after being trapped in the cabin of a capsized pleasure cruiser was unable to escape after her lifejacket automatically inflated, an investigation has found, according to the Daily Mail.
Gillian Davey, 17, was with her parents and brother on board the 5.4m Norma G, when the boat was capsized by a large wave close to the Doom Bar in the Camel Estuary, Cornwall, on May 25 last year.
The report by the Marine Accident Investigation Branch (MAIB) says that once the boat capsized, Gillian and her mother Caroline, who were in the cabin, put on their lifejackets, which inflated when the cabin started to fill with water.
Mrs Davey became trapped under a table, but managed to remove her lifejacket and swim out through the submerged cabin door, but Gillian kept hers on, causing her to become trapped.
'Without doubt, the wearing of personal flotation devices, such as lifejackets, saves lives,' states the MAIB report. 'However, there are circumstances when wearing automatically inflating lifejackets can be hazardous, for example when in enclosed spaces such as accommodation areas and cabins.'
The MAIB investigation also found that the dangers of being near the Doom Bar in a small boat close to low water were not fully appreciated by Norma G's owner, who had limited boating experience.
The Doom Bar caused the water depth to shallow very rapidly, causing the sea swell to abruptly shorten into large steep plunging waves, which were unnoticed by those on board Norma G until it was too late.
There were no aids to navigation marking the extremities of the Doom Bar and, because the boat was not equipped with an electronic chart system, the owner navigated by eye, unaware of how close his boat was to the north-east end of the Doom Bar.
In addition, the Norma G was constructed in the 1970s to lower safety standards than apply now. Specifically, it had limited reserve buoyancy, causing it to sink by the stern, making the rescue of the casualty difficult.
Chief inspector of marine accidents, Captain Andrew Moll says: "This sad accident highlights the need for leisure boat users to get properly trained and equip themselves with the necessary navigational tools to stay safe. Conditions at sea can change rapidly, boat owners should check the weather forecast before setting out and know the limitations of their boat.
"There are many reasons to operate an older craft, but it must be appreciated that some were built to lower safety standards than modern craft and may not be suitable for use at sea. Owners of craft not marked with a CE plate are urged to seek advice from a qualified marine surveyor on the suitability of their craft for its intended use."
Recommendations have been made to Padstow Harbour Commissioners to consider placing a navigation mark at the north-east extremity of the Doom Bar.
with kind permission of Marine Industry News
https://gmi-eu.org/wp-content/uploads/2021/10/MAIB-Norma-G.jpg
195
300
Federico Borrea
https://gmi-eu.org/wp-content/uploads/2020/03/gmi_fin-2-300x300.png
Federico Borrea
2021-10-15 12:48:13
2021-10-15 15:30:46
Lifejacket prevented teenager's escape from capsized pleasure cruiser (With Kind permission of Marine Industry News)